Auxiliary Awards & Activities
---
---
  CMH Auxiliary Sponsors Health Care Scholarship Program
The CMH Auxiliary Scholarship in being made available to Spink County Seniors who will be attending a post-secondary institution  in the Healthcare Field.
Applications are due by March 16, 2020.
L-R:  Judy Carroll, Mickey Harms, Renee Tracy, Dawn Oakley, Shawna Marzahn, Karla O'Daniel , Dawn Kopplin and Mike O'Keefe.
The CMH Auxiliary Treasurer, Mickey Harms, presented a check to CMH/ Clinic Foundation's Executive Director, Judy Carroll, for the Auxiliary's donation from proceeds from their fundraiser throughout the year.
The Auxiliary's donation is to help sponsor the  CMH/C Foundation's Golf Tourney fundraiser and help with the purchase of the CMH patient beds.
Pictured are some of the CMH Auxiliary Members with one of the 12 patients beds that the Foundation has purchased for the hospital.
---
- LUNCHEON FUNDRAISER -
The CMH Auxiliary will be sponsoring a Luncheon Fundraiser at Rooster's on January 27th , 11:00 a.m. - 1:00  p.m.
The Luncheon menu is broasted chicken, potatoes/gravy, vegetable and dessert.
Take out orders and In town delivery are available.
 To order your take out orders/delivery please CALL Renee @ 450-1963 or 475-7483.
The CMH Auxiliary Fundraiser proceeds  go towards the Redfield Clinic and Community Memorial Hospital needs.
FREE WILL OFFERING
---
---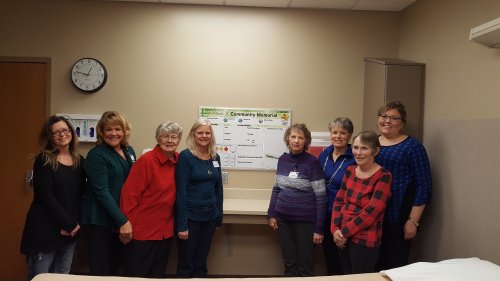 CMH Auxiliary members with communication boards that were purchased for Community Memorial Hospital patient rooms with funds raised from the Auxiliary's  fundraisers.
Viola Hardie, life-long CMH Auxiliary member was named the 2013 South Dakota Outstanding Auxilarian of the Year. Viola has been an active member of the Community Memorial Hospital Auxiliary and has held the office of treasurer for the last 20 years.
New Members are Always Welcome!